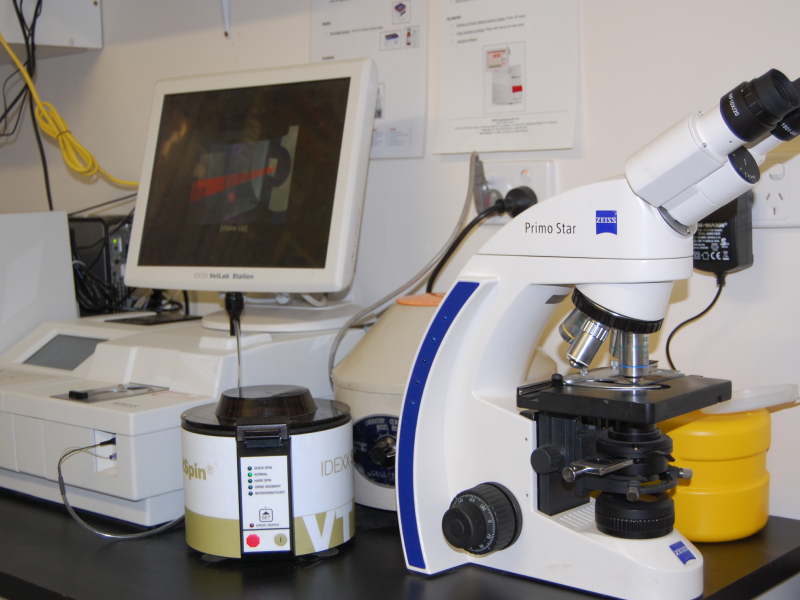 Our in-house laboratory includes the latest in Idexx blood testing equipment, allowing same day testing for our cat, dog and horse patients. This is superbly supported by the Idexx lab in Brisbane, which provides specialist interpretations and further testing when required. We also provide many gross and microscopic cytological, parasitical and semen tests in-house. Samples requiring specialist attention or morphological assessments are referred by courier to government or private veterinary laboratories or veterinary specialists. Tests such as for Heartworm, Parvo, Coronavirus, Feline AIDs and Leukaemia, and Pancreatitis can be run immediately at the time of consultation.
Parasitological tests from stool samples are an important part of herd health. Testing pre- and post- worming by dropping in fresh labelled stool samples to our staff, assist you, the owner, to assess the efficacy of your wormer's, and make changes quickly before deaths can occur. We can assist you in the selection of your wormer's, and in the setting up of your herd worming programmes.
If you have any questions about the laboratory work we perform at Nanango Country Vet, call us on 07 4163 3388 or get in touch via our contact page.