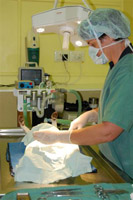 Nanango Country Veterinary Services have a well-equipped theatre for small animal surgeries. These range from routine speys, castrations and wound repairs to the more complicated procedures such as thoracotomies and orthopaedic work including fracture repairs and cruciate surgeries. We follow strict antiseptic and sterile procedure protocols. Patients' vital signs are monitored constantly via respiratory, pulse oximetry and cardiac monitors.
Surgical instruments are cleaned and sterilized as per standardized protocols utilizing our late model autoclave. Our equipment is regularly checked and maintained by qualified technicians. Pre-anaesthetic blood tests are available in-house and results are determined and discussed before surgery. Specialist level surgery cases are referred to an appropriate facility after stabilisation.
Nanango Country Veterinary Services is a member of the National Desexing Network. For more information please visit the NDN website.
Routine horse surgeries such as castrations or emergency surgeries such as stitch-ups, can be provided on property or at the surgery. The stable at the surgery is utilized if a darkened area is necessary to assist in the diagnosis of eye complaints. Large animal surgeries such as cow caesarians are performed on-farm. Small ruminants and alpacas can be operated on at the surgery thus reducing mileage costs, or on farm if preferred.
For specialist equine surgeries, we recommend referral to a specialist equine centre such as Oakey Veterinary Hospital or Gatton University, once the horse is stabilized.
Kathy became a Member of the Australian College of Veterinary Scientists by passing stringent exams in the medicine of horses. As such, she is well-qualified and experienced to handle most equine emergency medical situations.
To find out more about about the types of veterinary surgeries that we perform at Nanango Country Vet, get in touch via our contact page.