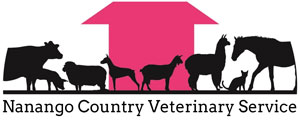 Meet our team of veterinarians, nurses and support who help care for your pets and animals in Nanango and surrounding areas.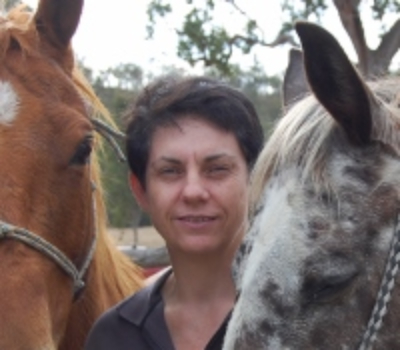 Dr Kathy Webb
Principal Veterinarian
BVSc (Hons) MANZCVSc (Medicine of Horses)
MAnimSc (Farm Consultancy) BA
read more about Dr Kathy
Dr Kathy moved to the district in 1987, and loved the area and the community so married a local cattleman.
At home, Kathy enjoys the company of the family pet dogs, Harry and Buttons, and the family cats Pippa, Ben, Addie and Kasper. Horses also remain a special part of Kathys' life. Kathys' Arabian mare Kholonial Tapestry foaled late 2018 to AI here at the clinic. A handsome palomino foal called Rey was produced, and is now a registered Quarab gelding. An ASH 1st cross mare named Sabrina. 2 more beautiful mares have now also joined the family. An ASH 1st cross mare named (Sour) Sabrina joined the family in 2021 and is now expecting a foal by frozen AI done in clinic. Due in November 2022.
Qualifications and accreditations include:
Bachelor of Veterinary Science (Honours)
Membership of the Australian College of Veterinary Scientists (Medicine of Horses)
Master of Animal Science (Farm Consultancy)
FEI level 3 Endurance Veterinarian
FEI level 3 Endurance Treating Vet
AERA/QERA Endurance Veterinarian
Post-Graduate Horse Dentistry Course including Power Float techniques
Accredited in Bull Breeding Soundness Evaluations
Accredited in Cattle Pregnancy Testing
Accredited in Microchipping
Accredited in Hendra Vaccinating
Accredited in Restraint by Tranquillization Darting
Memberships include:
Australian Small Animal Veterinarians
Australian Cattle Veterinarians
Equine Veterinarians Australia
Sheep, Camelid and Goat Veterinarians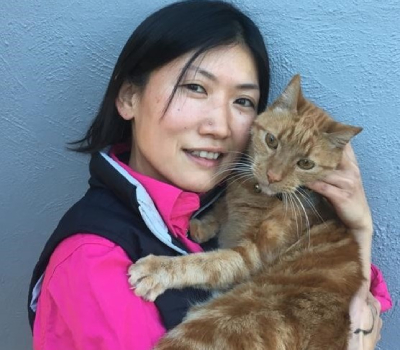 Dr Kyoko Sato
Associate Veterinarian
BVSc 
read more about Dr Kyoko
Dr Kyoko (pronounced Key-o-ko) studied Veterinary Science at the University of QLD Gatton Campus, and spent one month of her final year here in our practice before graduation. Since graduation, Kyoko worked as a Feedlot Veterinarian for several years. Kyoko enjoys working with all animals, though has a soft spot for both cats and cows. Her cat Tuna (pictured ) travels everywhere with her, though not to Japan.
Our Veterinary Support Team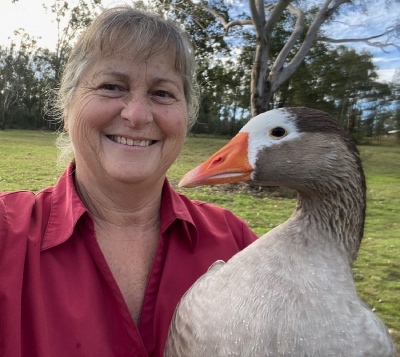 Judy Allen
Certificate IV in Veterinary Nursing
read more about Judy
Judy joined our growing team in October 2021, as a career veterinary nurse, having started as a Grade 10 work experience student just a few (cough) years ago. Judy has moved around a little and worked in clinics from Brisbane to Gympie and now Nanango.
Judy loves moving around in her spare time too, and has travelled to all states of Australia, except WA, which she almost ticked off her bucket list before COVID hit. For company, our amiable and cheerful vet nurse cares for Dory the goose. To keep busy when not off on the road, Judy enjoys photography, motorbike riding, jigsaw puzzles and having special time with her family.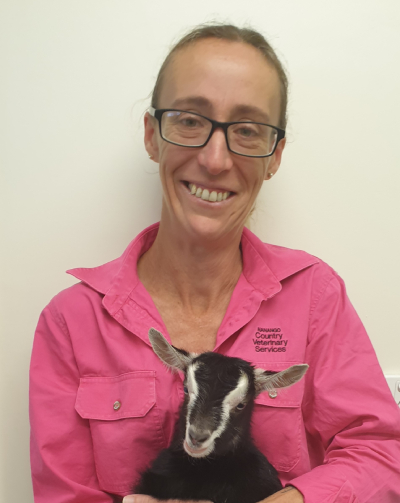 Sandi Edwards
enrolled in Certificate II in Animal Studies
read more about Sandi
Sandi joined the practice in 2020 and has an avid passion for all animals large and small. Having ventured into veterinary nursing studies several years ago, Sandi is pleased to be able to use her knowledge to help our valued clients and patients.
On days off, Sandi enjoys all of quiet time on her block with her cat and dog, travelling and the occasional horse ride.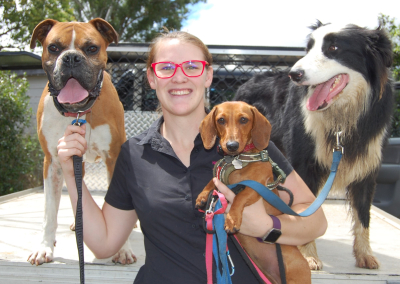 Karrie Ashby
Certificate II in Animal Studies
read more about Karrie
Karrie has been an integral part of the Clinic team for many years, although now this is her secondary job. Karrie originally completed a school-based traineeship through the local High School, gaining a Certificate II in Animal Studies at the end of 2014.
Karrie has 2 dogs, a Boxer named Rambo and a Border Collie named Rascal, plus two little Dachshunds called Amani (expensive tastes!) and her daughter Sharon (even more attitude!). Karrie loves to ride her horse's… when she can catch them. Karrie now has accumulated several mares for riding and/or breeding. Attendance at Nanango Ladies Panthers games occupy most of Karries' spare time.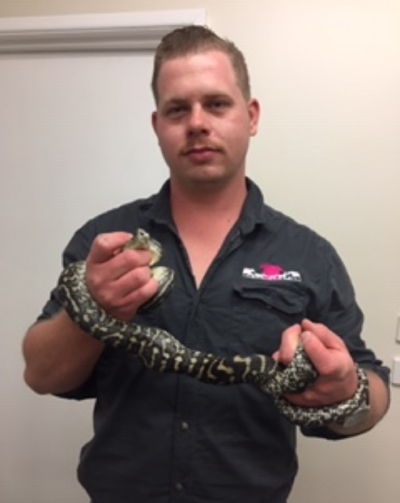 James Webb
enrolled in Certificate II in Animal Studies
read more about James
James has been a member of the team for his whole life, cutting his teeth helping at cow calvings and with odd jobs around the clinic. James works part-time at the clinic and is currently studying to complete a Certificate II in Animal Studies.
James has a fur family with attitude, being cats 'Haley' and 'Horace' and also finds time to help with a occasional muster on the property riding his Quarterhorse Cookie-man. James also works at the town IGA and is always on call for the town Fire and Emergency team (QFES). Follow his Facebook for his latest culinary creation as cooking/baking was his first career and remains his passion.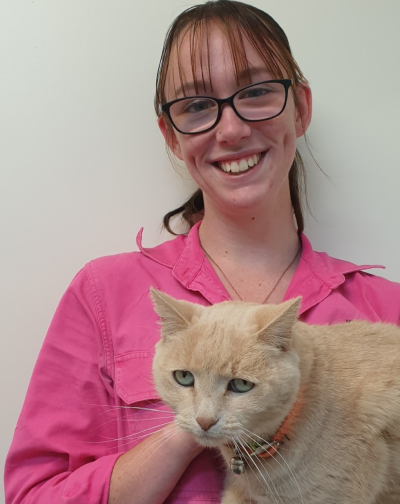 read more about Tez
Tez joined the team in Grade 10 working after school, partially completed a Certificate II in Animal Studies, and then went off jillarooing.
Tez has returned to Nanango to the joy of her horse 'Jacob' who loves nothing more than a good ride and a chance to throw her off. Tez has now been welcomed back to the team as a veterinary assistant.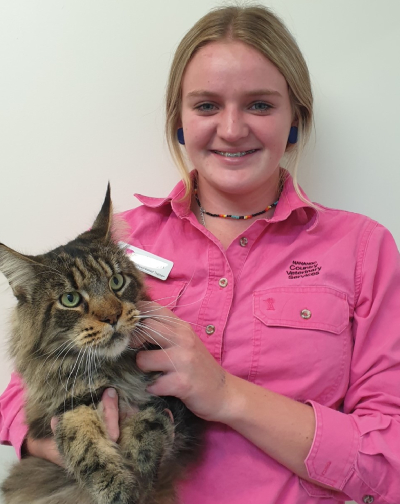 Kaitlyn
enrolled in Certificate II in Animal Studies
read more about Kaitlyn
Kaitlyn jumped on board as a school-based trainee after a stint of work experience in Year 10. Kaitlyn enjoys campdrafting and working cattle, riding her mare 'Oracle', an 'evil but sweet sometimes' 7 year old chestnut Australian Stock Horse.
Kaitlyn aspires to complete a Certificate II in Animal Studies before she finishes Year 12.
Kaitlyn is pictured holding Kathy's Maine Coon 'Kasper'.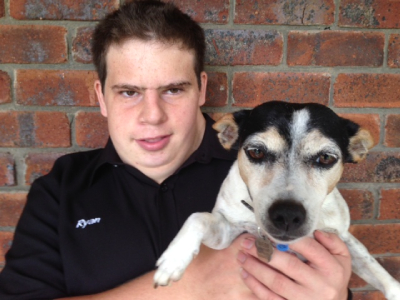 read more about Ryan
Ryan has grown up as a son of the clinic and really enjoys helping the Veterinarian (his mum) when he is here. We greatly appreciate our clients saying hi to Ryan and encouraging him. Ryan spent 2016 at TAFE learning numeracy, literacy and hospitality, and now works at Kingaroy Kitchens 3 days a week.
Here he is pictured with one of the family dogs Harry (who's actually a girl dog but named after Harry Potter).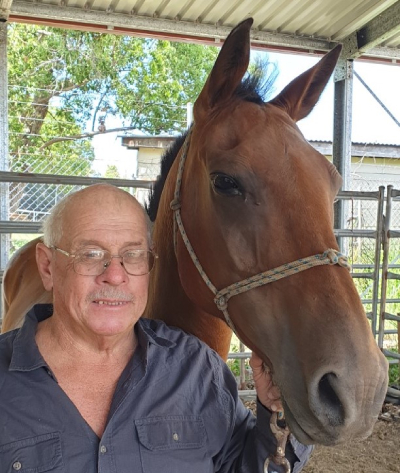 Bruce Webb
Yard Assistant
read more about Bruce
Bruce is quite capable of speaking for himself, and regularly does so. The PR man of the car park, Bruce holds forth, holds things, fetches things, and occasionally mows the lawn. Oh, and ferries Kath's horses around… Here Bruce is posing with Sabrina, Kathy's ASH 1st cross mare, in the clinic yards.