Synchronisation, AI and Pregnancy Testing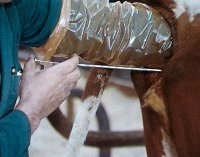 Artificial Insemination has always been offered as part of our services for cattle using frozen straws, and for bitches after collection from the dog in-house and utilizing the fresh semen. We have expanded our AI service to include horse AI by fresh or chilled semen. We carry a range of cattle semen straws including both beef and dairy straws in our mobile tank.
Synchronisation programmes are available if fixed time AI is required for larger mobs.
Manual pregnancy tests are available for cattle. Kathy is a certified ACV pregnancy tester and can supply tags and certificates for cattle sales.